ENOD Wireless Bluetooth Earphones
E'NOD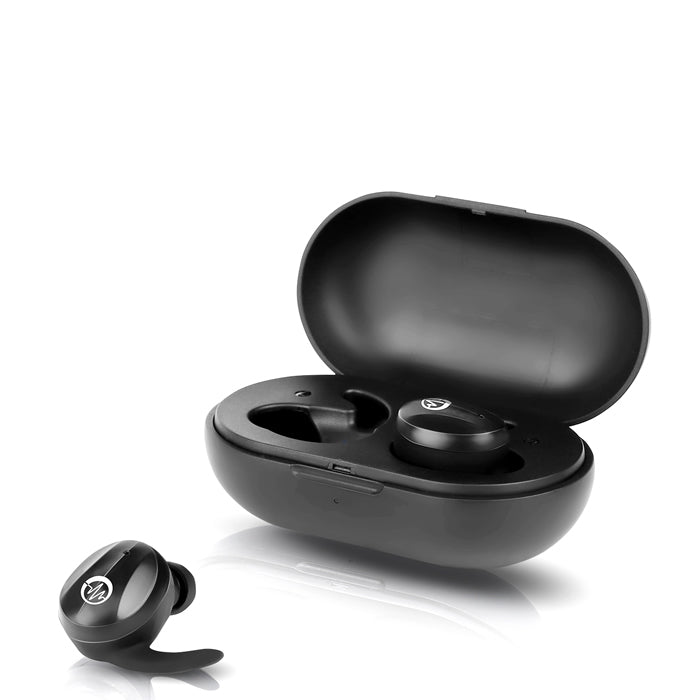 E'NOD Mini Ring Pros Earphones
Set yourself free from cables with our beautifully designed, stylish, high quality Truly Wireless Earbuds. When used together the earbuds provide ultra high quality stereo sound but can also be used separately allowing you to share your audio experience with a friend. These earbuds use the latest Bluetooth 5.0 technology providing you with high-fidelity sound, fast speeds and stable connectivity.
"If you're interested in the Samsung Buds or the Apple Air Pods but don't want to spend over €100.00 this is a really good way to go"Jess Kelly
Newstalk FM
The earbuds come with a ultra-lightweight, portable, 500mAh capacity, charging case allowing you to charge on the move. Its one hour capacity will give you three full charges without having to recharge the case.

The beautiful binaural design keeps the earbuds snugly in your ears making them perfect for people who enjoy listening to audio during exercise. There is also a built in microphone for hands-free calling.
Listen to Newstalk's Jess Kelly review our ENOD Mini Ring Pros Wireless Earphones on The Pat Kenny Show.
Bluetooth: V5.0,
IPX7 Waterproof,
Stereo Sound,
Built-in MIC,
Dual Speakers for hands free calls,
Wireless Range: 15-20M (Open Distance),
Play Time : 5H (Up to 20 hours on the go),
Talk Time : 5-6H.