RCA Saturn 10 Pro 2 in 1 Laptop/Tablet
RCA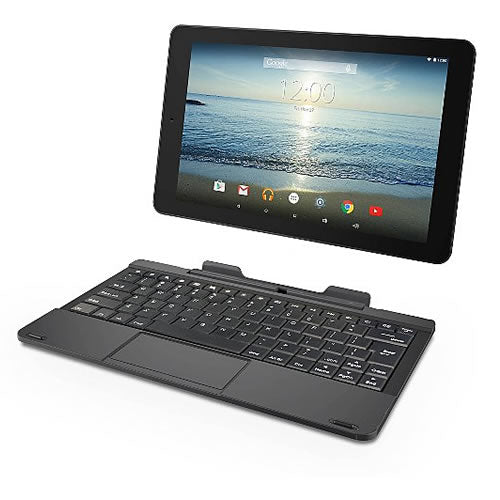 The Saturn 10 Pro packs more value than you can ever imagine. This 2-in-1 hybrid features a vivid 10.1-inch touch screen and runs on Android 6.0. If you want the flexibility of having a laptop and a tablet in one, the Saturn Pro 10 is a winner.
The Saturn Pro 10 comes with a 2-megapixel front and back facing cameras centered on the device. It also has a built in speakers, microphone, Micro HDMI port, MicroSD card slot, Micro USB port and 3.5mm headphone port.
The Saturn is equipped with a detachable smart keyboard with a pressure sensing trackpad, which clips on magnetically so it can be used as a stand-alone tablet or quickly transformed into a working laptop. The hinge is designed to give the user a comfortable typing experience by raising the rear of the keyboard.
Screen: 10.1″ 1280*800 Pixels IPS Capacitive Touch TFT -
Operation System: Android 6.0 (Marshmallow) -
Chip: Quad Core 1.3GHz -
Google Play Certified: Yes -
Connectivity: WiFi 802.11 b/g/n, Bluetooth 4.0 -
GPS: Yes -
Memory: 1GB -
Storage: 32GB -
Camera: 2MP Front + 2MP Rear -
Connectors: MicroSD, Micro USB (charging), USB, Headphone, Mini HDMI, DC Jack -
Battery Life: Up to 6 hours -
Keyboard: Trackpad, Angle Adjustable